Recipes
Genmaicha Green Tea Saison
A refreshing combination of classic farmhouse funk and delicate tea flavors
I've been fortunate to be in the brewing industry for more than five years in a multitude of roles: cellarperson, head brewer, director of operations, and now as a project manager for Omega Yeast. What inspired me to leave my engineering gig and join the brewing industry was the way people connect over the beer itself. Sharing a pint with a fellow friend or stranger signifies connectivity and conversation — a liquid bridge of sorts. As an Asian-American brewer, I'm inspired to brew beers that highlight the various flavors of Southeast Asia's culinary tradition: exotic fruits, tea leaves, food and drink pairings, sour, spicy, salty, the list goes on. I strive to truly hit all the notes of the fun ingredients and processes while keeping the recipes approachable and complementary to a lovely dish of delicious food.

When formulating this recipe, I wanted to pay homage to the history of Genmaicha green tea and farmhouse saisons — marrying classic tart and funky flavors with the earthy nuttiness of the tea. When brewing this recipe, keep in mind that the main components of this beer are about balance and simplicity — the acidic, Brett-forward fruitiness from Omega's C2C American Farmhouse yeast (OYL-217) is complemented by the Genmaicha, simple grist bill, and light hop additions. The rest of the ingredients and processes were intentionally kept simple to let the fermentation do most of the work.
When you're recreating this recipe, think about a dish that you'd like to enjoy it with. Many beers that I've brewed were inspired by flavors I found in food, so I personally drifted towards spicy pho soup when dreaming up this beer. Having the touch of acidity mesh with the saltiness of the pho broth and savory protein was something that intrigued me, leading me to combine two of my favorite things: funky saisons and spicy pho.

This recipe is centered around Genmaicha Green Tea, a blend of green tea leaves and toasted brown rice that was originated by Buddhist monks as a gesture of humility and conservation. Genmaicha lends a touch of rich, nutty sweetness to the already smooth green tea, and when paired with the funkiness of the C2C yeast, the recipe generates a bouquet of pineapple, tart strawberries, earthiness, and fresh hay. My goal was to pay homage to classic farmhouse saisons while exploring methods to infuse rich tea flavors into beers, as utilizing different tea leaves continues to rise as a trend in the brewing community.

I also decided to keep the grist simple, with a German Pilsner base malt and a dose of flaked oats. Pilsner malt is typically my go-to for base malt because it creates a sturdy, crackery foundation that allows other ingredients to shine while keeping the color nice and light. I selected flaked oats to add just a touch of body with a hint of dough-like sweetness to embrace the Sorachi Ace hops. Sorachi Ace, a crossover between Saaz and Brewers Gold, is a hidden gem for styles like lagers and saisons as it brings bright flavors of lemon zest, orange pith, lemongrass, and dill to both the flavor and aroma. I selected Sorachi Ace because it's middle of the road in terms of its alpha acid percentage (usually between 7 – 9%) and I wanted the sharp citrus zest characteristics to go along with the yeast's fruitiness while still creating a well-rounded flavor profile for the base Saison.
Genmaicha Green Tea Saison
Vital Statistics
Batch size 10 gallons
Boil time 90 minutes
IBUs 18-20
SRM 3.5
OG 11.6°P (1.046)
FG 1.6°P (1.006)
ABV 5.3%
Raw Materials
German Pils malt
14lb (78%)
Flaked oats
4lb (22%)
Sorachi Ace hops (T90)
12.5 IBU at 60min (7.08% AA)
Sorachi Ace hops (T90)
12.3 IBU at 15min (7.08% AA)
Sorachi Ace hops (T90)
1oz in whirlpool
Azacca hops (T90)
1oz in whirlpool
Genmaicha green tea
5 tea bags per gallon of wort
Yeast
C2C American Farmhouse (OYL-217)
Process
Target mash temp: 148°F, rest for 45min. Vorlauf 20 minutes, lauter at 170°F. Boil for 90 minutes. Add your measured volume of Sorachi Ace hops for the 60- and 15-min additions. At 10 min, add a pinch of Whirlfloc and Servomyces.
Target gravity for the whirlpool is 11.6°P. Once the wort temperature is at 185°F or below, add the Sorachi Ace and Azacca hops along with the Genmaicha green tea bags. Start timer for 20 min and let the ingredients circulate.
After the 20-min whirlpool, cool wort to 68°F and transfer into fermentor with 15ppm of oxygen. At this point, the wort is very light with a slight goldish hue from the Genmaicha.
Pitch yeast* at 66 – 68°F and shake the fermenter. Let free rise to 78°F — this is the higher end of the strain's ideal temperature range, meaning it's generating more of those flavorful esters. Ferment until terminal gravity (1.6°P). Diacetyl rest at 72°F‑ish, then once diacetyl is cleared up, soft crash to 55°F.
Let the beer settle at 55°F for a week to let the Brett become more pronounced, then crash to 35°F. Remove the yeast cake and hop residue, then cold condition at 35°F for two weeks. Brett continues to develop over time, so you can let the beer condition for as long as you like. The longer it sits, the more pronounced the Brett funkiness will be.
My vision for this beer is to be slightly higher carbonation than the average ale, so aim for about 2.7 volumes of CO2.
*Note: for a 10-gallon batch, you can use two homebrew packs of C2C or one homebrew pack propped up with Propper Starter.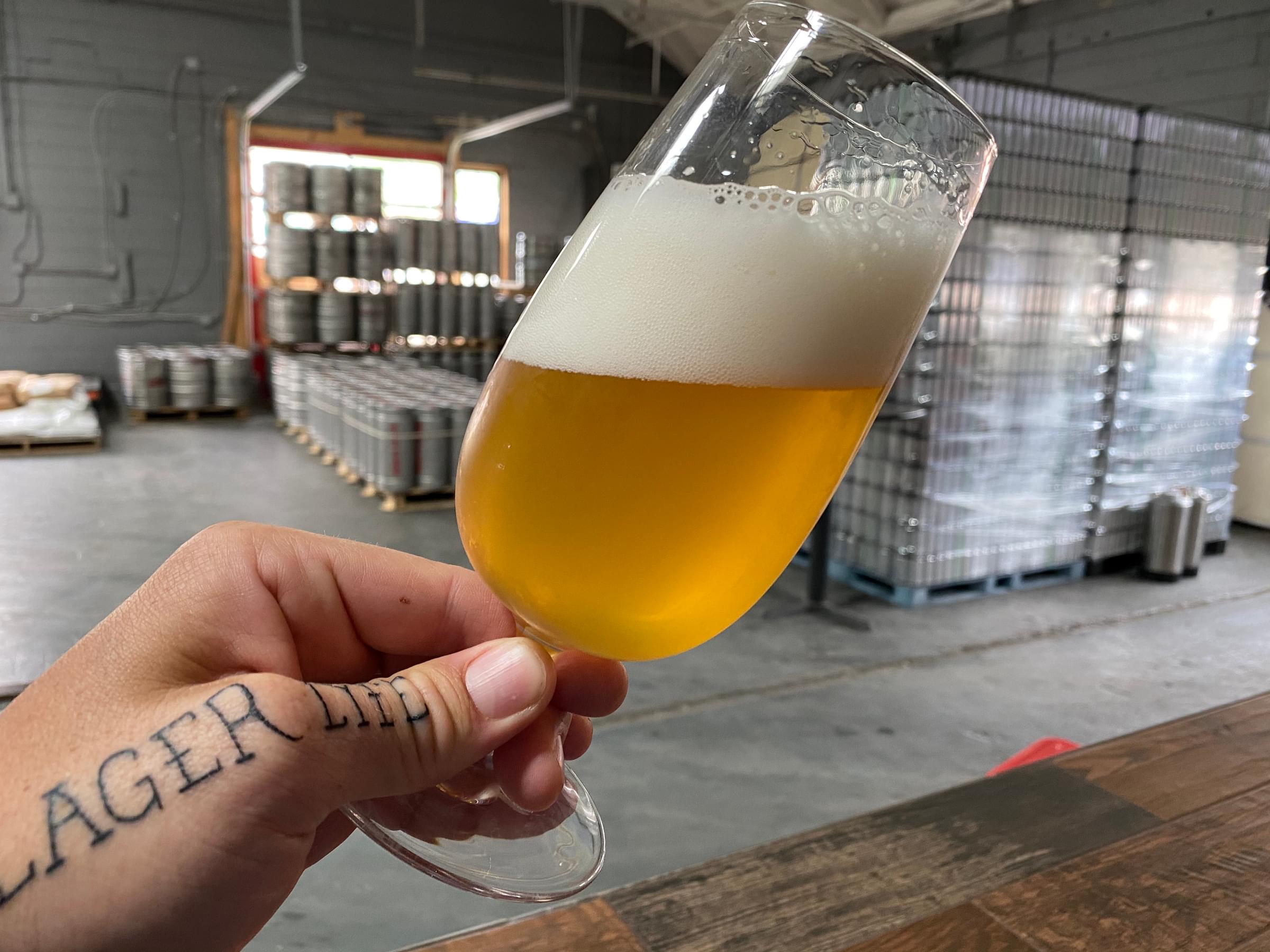 The finished product came out very close to my initial visualization of it — a light straw color with a slight golden hue, a fluffy, sturdy, long-lasting white head, and a very subtle haze. Aromas included muddled lemon, sourdough bread, and a hint of lemongrass from the Sorachi Ace hops and Brett character. The drinking experience was fulfilling. The beer had a well-rounded and tart flavor profile, with notes of nuttiness, citrus zest, and a bright, spritzy funkiness that brought it all together. The flavors in this beer will continue to develop over time in the package due to the Brett characteristics evolving, so I'm excited to drink this beer over the coming months with my favorite spicy Thai dishes.