Community
WeldWerks: Dialing in Thiolized, Outlook Juicy
We sat down with Matt De Miranda in the lab for an inside look.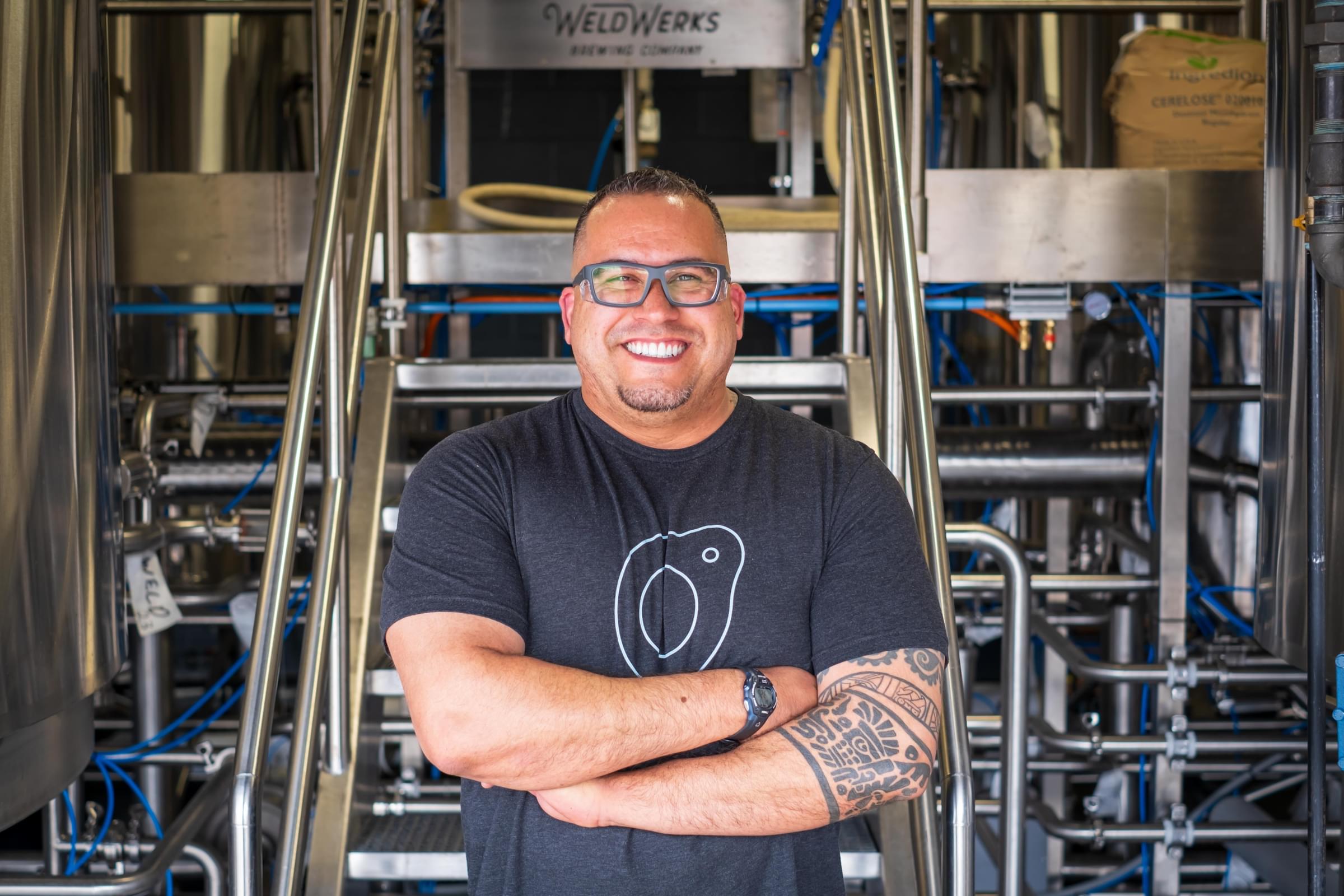 WeldWerks was known for hazies even before hazies were a BJCP category. You've gotten a lot of award recognition and buzz for your flagship in particular, but also for a lot of your beers. We're big fans. We were really excited to do a collab beer with you recently. Juicy Bits was sort of a touchstone.
Yes! Juicy Bits has gone through many evolutions, recipe-wise, from its inception until now, and probably will continue to in the future. We keep dialing it in. It sort of blew up with hazies in the hop and hazy wars – which piggybacked off the IBU and bitterness wars.
It is a big-time standout in this part of the country and we have the awards and accolades to show it.

When it started, Neil, our head brewer, wanted to make something that was not only on a framework of those famous East Coast beers (like from Trillium, and from the Alchemist, like Heady Topper) but also pushed it.
We designed it with a very high protein mash bill, and very high hop loads and with multiple dry hops. It was basically the more hops the better. And as we've learned more about aroma profile and haze for the style over the years, we've dialed back and improved on some methods and ingredients keeping the same huge juicy essence.

Juicy Bits is really the root of the tree of all of our other IPAs, honestly. And I don't mean that from a recipe standpoint. I mean, when you try our IPAs, they all have their own attributes, but when you go back to Juicy Bits, it stands apart.
Innovation brought us to Juicy Bits, and it's our baseline for even further innovation. We see our drive for innovation pushing us forward.

Is that drive for innovation part of what made you interested in Thiolized® yeast?
We definitely wanted to see where we could fit that in. And if it's something that we don't have too much experience with it's always a bumpy road. So, when an opportunity came along to collaborate on a beer, we thought it really was an awesome idea. You don't really hear too much about collabs between breweries and yeast providers.
In our previous experimentation with Thiolized yeast, some things worked for what we wanted right away, and some things didn't. Like, originally, we looked into using Phantasm® powder, really early on.
I think the first time, we just used it with our regular British V strain. Phantasm was so new to the whole industry, we actually just thought you just add it and that everything will do its thing, but then we discovered, oh, we actually need to lay down a foundation for it. You can't just throw Phantasm powder into something and have it be Thiolized. It was good beer. It had great intense aromatics, but it had a little bit of sulfur.

After that, we used Cosmic Punch so we'd get the biotransformation, and the beer turned out great. We also used Cascade on the hot side. But again, dialing it in, I think we just didn't get enough intensity for what we were looking for. We wanted to push the thiols for sure.

Helio Gazer has like 200 times that intensity threshold as Cosmic Punch, so for our collab beer, we used that, and a tried-and-true Juicy Bits grain bill with lots of oats and lots of protein to get that haze and that mouthfeel going – and Lotus hops to get a little bit of a differentiation.

When an opportunity came along to collaborate on a beer, we thought it was an awesome idea. You don't hear too much about collabs between breweries and yeast providers.
In the whirlpool we did two additions of of Motueka and Mega Motueka, which has Phantasm powder, to lay the foundation for the precursor biotransformation, then two dry hop additions as well with the same two hops. We definitely designed this beer to push the limits more. That's the cool part.
We'll be looking to Thiolized strains definitely for other beers, too, including things that could help optimize for shelf stability as we're growing, so that we can ship beyond the state and maintain quality. We want to do a cold IPA. We might do a thiol lager, too, using Lunar Crush.

I hear Mega Omega is in the fermentor now. Are you getting any early sense of it?
Yes! it's gonna get its first dry hop tomorrow, so I wanted to smell it today. It'll obviously change, but the grapefruit and tropical character it has right now, even before dry hopping is crazy.
It's very intense.
Just from the wort and yeast – and the hops that were in the hot side. I feel like you don't see a crazy amount of aromatics happen until after the dry hops are done, but this one already has a huge citrus and tropical fruit character, which I was super excited about.

How do you usually choose collabs? Was collaborating with Omega much different than one that's brewery to brewery?
Brewery to brewery collabs are really born out of camaraderie and companionship in the industry, honestly. Not to sound too romantic. Our head brewer, Neil Fisher, and Vinny at Russian river, they're friends. They've been friends for a long time. We do collabs with Russian River because of their friendship, and their love of each other's products – their love of each other's beer, and principles.
Our Mutual Friend in Denver — our head brewer Skip, and Jan, their head brewer, have been brewing together for years: they brew wonderful beer and we love going there and brewing with them and vice versa. And I think you can really sense that through the beers that we do together.
We try to play to each other's strengths. Firestone Walker and their West Coast. I mean, they're the best, so, of course we want to do a West Coast with Firestone. And it's the same with this collab.
We're genuine fans of Omega. I think our shared strength is that innovation drive I was talking about. Omega Yeast is not a yeast provider that just makes the product, puts it in a jug and sends it our way. There's nothing wrong with that, but Omega has a strong arm of research and development and drive for the next big thing, which is exactly where I believe WeldWerks is at, too.
So, making something together, both of us are going to learn something and make something really fun.

Also because the quality shows through the beers that we put out and with the type of cleanliness that we get, that is way less work for me, which I am a huge fan of.

As a lab guy, there was something else about the Helio Gazer strain that you said you really appreciated, that it was the ALDC version.
Yeah, one of the coolest things ever about this Helio Gazer strain was the fact that it was the version that prevents diacetyl from forming, which is just awesome. Honestly, I almost fell out of the chair when they told me. Leave it to the lab dude to get so excited about genetics.
We've been dosing ALDC enzyme for maybe about six or eight months in our in IPAs. That's been a good tool for trying to eliminate diacetyl from hop creep and things like that that happen just by nature of the beers that we make.
But having that capability through the yeast strain is even better; not having to add it in, that makes utilization much easier.

As if there aren't enough variables already, you know? [It being] a part of the yeast eliminates [a contamination] potential, however small, and [removes] a step.
I had already found a way to aseptically dose enzyme within our system – I aliquot aseptically in the hood the exact amount that we need, and put it in sterile, non-pyrogenic tubes and then the brewers grab those tubes and make sure that they're clean and spray everything down.
It has worked well, but it also introduces a few other routes to where contamination could happen, as if there aren't enough variables already, you know? For me, the enzyme as a part of the yeast itself eliminates that potential, however small or big it may be, and takes one more step out of the brewers workflow, and one more step out of mine, and it cascades from there.
Did you start your career in a brewing lab?
The base of a lot of my jobs have been either science or bench work. I went to CSU here in Fort Collins. I have a biochemistry degree from there. I started out doing infectious disease research. That was my first job after college. I was able to work at the CDC doing microbiology diagnostics for diseases.
Oh, wow. Cool! Maybe not before, but I think we're all too familiar with the CDC, now.
Yeah. It was definitely interesting talking with old coworkers during the height of the pandemic because they were obviously quite busy – but also they were really well funded in the last few years, so it was an interesting bag for sure. But I've done some hopping around.
When I left the CDC, I went to the IRDC labs at CSU. There, they worked with bio agents and had level three labs where you have to have scrubs on and respirators. From there, I was able to do material science and engineering and got a small internship at Northwestern where I worked downtown in Chicago. The building was connected to the Northwestern Medical Center. So I'd go down there everyday to do crazy bio nanotechnology. That was a little more research-based.
After that, I came home, got a job at a tissue lab processing human donation products to prepare them for donors. And after that, I took a position with a pharmaceutical company, working in a microbiology lab doing stability testing for drugs.
The pharmaceutical environment is mentally and emotionally taxing — well, you sacrifice quality of life for the pay. So, it was then that I really started thinking how I could apply my degree to do something really satisfying and fun even. That's when I thought about breweries.
I had a few beers and wrote a cover letter to a lab tech job at Left Hand in Longmont. I thought the larger breweries would have a higher chance at having a quality lab and dedicated staff. My cover letter was pretty funny, I think, and got in front of the hiring manager.
I worked there for about four years and then I went to Odell Brewing in Fort Collins, right down the street from New Belgium, for two years, before I got recruited by an old coworker who became the production director here at WeldWerks. I've now been at WeldWerks for a little over a year.

I live in Greeley and my wife and I used to frequent WeldWerks quite often. The Hefeweizen is and was one of the most consistent, best-tasting Hefeweizens I've ever had. I drank a lot of that. My wife would always get the West Coast, Four O'Clock Shadow, a collab with Grimm Brothers. That was when it was only a small tap room, and just a 15 barrel brewhouse – in our hometown. It was great.

What were some lessons you took away from your first brewery-focused lab job at Left Hand?
My background and jobs have been based in microbiology, but never really touched on brewing yeast or yeast in the brewing context before then. A lot of it was clinical bacteria, and clinical molds and yeasts and things like that, so I learned a lot.
I was there for three months when it happened—the first field reports of exploding bottles and it was from then on for about two years. It was an interesting show. I definitely got a crash course in diastatic infection and diagnostics and a crash course in brewing yeast, yeast labs and yeast providers.

I can say the biggest thing I learned from that was the vectors (meaning the way that diastatic contamination can happen) are actually way more broad than we thought, or really what everyone thought. The way that it can get into your equipment.
Some things are really specific, like contamination can sometimes come from grain dust. But I think the biggest thing that we learned is that diastaticus can happen from a broad range of sources. Everyone all around the industry learned a lot from it.

What's next for WeldWerks?
One of our goals for the end of last year and into this year, we always want to try to have at least one lager on tap. We have three on right now. So that's pretty cool. For sour beers, they're not really something I reach for myself, but if you go in the tap room on a busy weekend, a lot of people are drinking either our hazies or our sours. A lot. I think our sours are in a whole class of their own. They're off the wall, the flavor combinations we do, like pistachio mochi.
But from my end of things in terms of the lab, I'm focused on yeast management of course. I really want an automated cell counter. Those are awesome, and they can really give you the edge in being able to have consistent yeast pitches.
Also, having an upgraded yeast brink that has a mass flow meter, recirc, and glycol – and just have a really beefed up yeast brink, we can really do some damage. Ask the lab folks what they want, and they want more stuff.

One of the larger umbrella things that's going on with us is that we're growing. We started as a very small brewery and now we're doing about 13,000 barrels a year. The next biggest breweries to us aren't 15,000 barrels, they're the 50,000-barrel breweries that turn into 70,000. We're making a push to become larger and we're doing great. We have a new 30-barrel brewhouse that we're starting to run. And we have more, larger tanks, and larger fermentors. We're starting to grow out of our space even. It's our common goal to just keep getting better.