Community
Holiday Brew-Off 2022
We split into teams and went head-to-head to find the tastiest holiday beer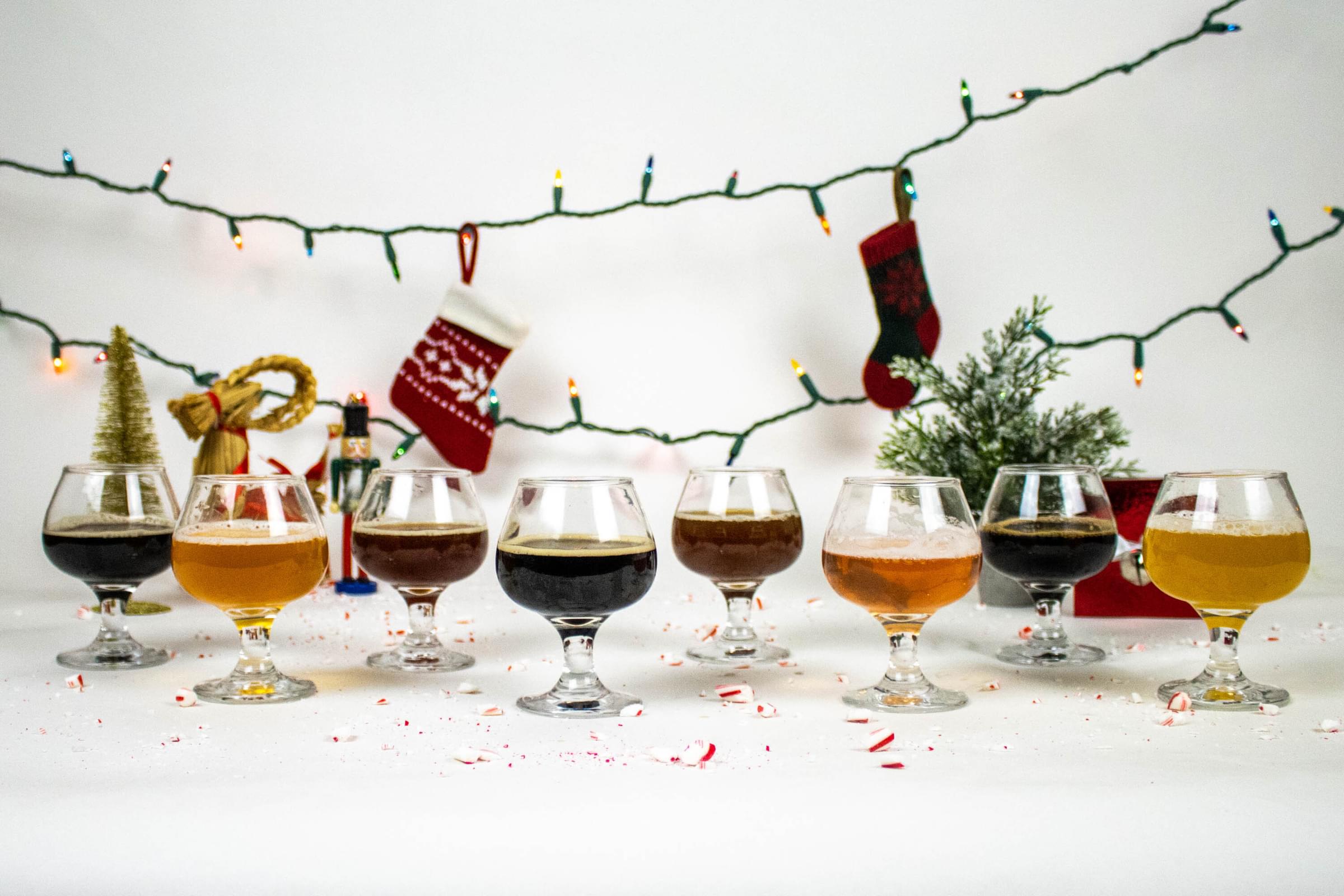 It's not all research and experimentation at Omega Yeast — sometimes we get to brew for fun, too! This year eight teams took a turn brewing a beer for the holiday brew-off, with beer styles ranging from a witbier dosed with spruce and juniper tinctures to a classic Belgian dubbel.
The premise was simple: get together with your brew team, design your recipe, and brew. All eight beers were sampled during regular sensory training time and everyone voted for their favorite all around (voting for your own team was not allowed). There were no restrictions on styles, ingredients, or even alcohol content, which made for a fun and diverse group of entries.
And the winner is…
The winning team was Bianca, Chris, and Maryhelen! They brewed a low-alcohol kettle sour with cranberry juice (and glitter!) that our tasters found refreshing and festive. We're excited to share their recipe with you here — give it a try and see if it brings you some holiday cheer.

A few notes about this beer:
With all low/no-alcohol beers, sanitary processes are key. While the low pH helps avoid microbial growth, we also plated this beer to ensure no growth was found before being served at the holiday brew-off.
The beer was served through freshly cleaned draft lines and removed from service at the end of the evening. We also cleaned the draft lines immediately after pulling the keg.
Mashing at a high temperature helped develop less fermentable wort loaded up with complex dextrins and maltotriose.
British V was used to ferment the beer because of its low attenuative properties and relative inability to ferment maltotriose.
In the new year we hope to share more of our recommendations for brewing tasty low/no-alcohol beer.
Vital Statistics
Batch size 5 gallons
Boil time 10 minutes
IBUs 3.8
SRM 3.3
OG 5.2°P (1.020)
FG 4.07°P (1.016)*
ABV 0.5%*
Raw Materials
Munich malt
20oz (32%)
Malted oats
16oz (25.6%)
White wheat malt
10.6oz (16.9%)
Vienna malt
8oz (12.8%)
Flaked wheat
8oz (12.8%)
Saaz hops (3.75% AA)
0.25oz after kettle souring
British Ale V (OYL-011)
1 homebrew-sized pack (150mL slurry)
Lacto blend (OYL-605)
1 homebrew-sized pack (150mL slurry)
Pasteurized cranberry juice
2L (~2.1 quarts)
Food-grade glitter
Optional, but highly recommended
Process
Single infusion mash at 179°F for 60 minutes. Sparge with 5.5 gallons of water at 168°F (75°C). Target mash pH 5.2. Kettle sour with Lacto blend until pH reaches 3.4, then boil for 10 minutes with Saaz hops. Crash and ferment with OYL-011, target 20% attenuation and dilute with cranberry juice to reduce final ABV to 0.5%.
*The estimated FG doesn't quite match the finished beer's ABV due to dilution. Dilute as much or as little as needed to reach 0.5% ABV, or to your taste (if alcohol content doesn't matter).

Recipe by Bianca Alley, Chris Bernardo, and Maryhelen Harper